Board & Governance
The Executive Management team
The Executive management team supports the Chief Executive in managing the Company's businesses. The team review and debate relevant items before consideration by the Company's Boards and Committees. The Executive management team is responsible for developing and delivering strategy and priorities approved by the Boards, monitoring performance against key financial objectives, managing and overseeing asset and liability management, capital allocations, risk, disclosure issues, investments, acquisitions and disposals, operational issues, customer issues and succession planning. The Executive management team actively promote the Company's culture and values.
Chief Executive Officer
Andrew McLaughlin
Dr Andrew McLaughlin was appointed as the CEO of RBS International in July 2015. He was formerly Director, Communications and Chief Economist for NatWest Group. Before joining the bank, he spent three years in corporate finance advisory working with Ernst and Young.
Andrew holds a first class honours degree in Economics and Politics. His 1993 doctoral thesis won the prestigious Walter Bagehot prize for best UK dissertation. Andrew spent several years working in academia before beginning his commercial career. He published a book on the automobile industry in 1998.
He is a member of the University of Nottingham Globalisation and Economic Policy Advisory Board and sits on the CBI Economic Affairs Committee. Andrew was previously a regular commentator in UK print and broadcast media and also a columnist in China Daily, China's leading business newspaper.
Andrew is a member of the University of Nottingham Globalisation and Economic Policy Advisory Board, a member of the Oxford Business School Business Economics Programme and Chairman of the Prince's Trust Scotland Advisory Council.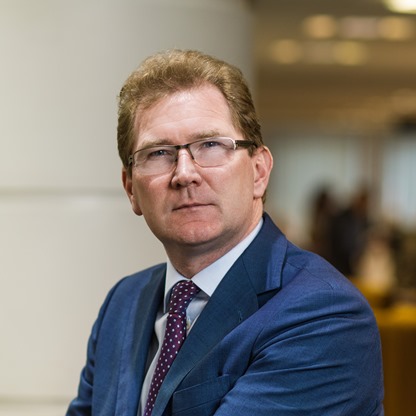 Chief Financial Officer
Lynn Cleary
Lynn was appointed as Chief Financial Officer in 2005 and has more than 20 years' industry experience, having joined PwC in Jersey after qualifying in Dublin. Lynn benefits from a broad range of finance sector knowledge; she joined NatWest Group 1999 and moved to RBS International in the same year.
Lynn led on the ring-fencing transformation of the RBS International business, which has elevated RBS International to a stand alone bank outside of the ring fence, with a balance sheet in excess of £30bn coupled with strong and sustainable profitability.
Lynn holds a first class honours degree in Business Management from Trinity College, Dublin and qualified as a Chartered Accountant in Ireland, before relocating to Jersey. She was recently appointed as Vice President of the Jersey Bankers Association and will assume the Presidency in 2021.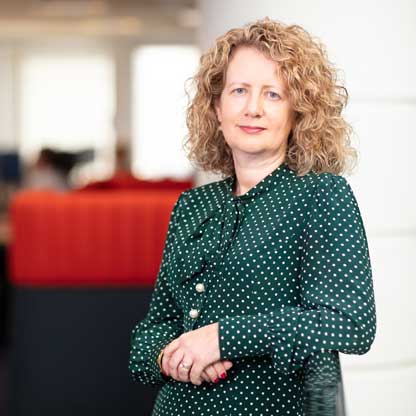 Chief Risk Officer
Chris Harper
Chris was previously the Head of Credit Risk, Asia for Coutts & Co, Head of Business Risk & Controls in International Banking, Singapore and has also been a Relationship Director in Corporate Banking. He has 19 years' industry experience, having joined NatWest Group in 1999.
Chris was appointed Chief Risk Officer for RBS International in 2016.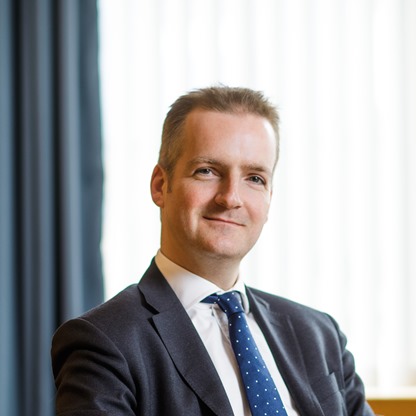 Managing Director, Local Banking
Steve Wakelin
Steve joined NatWest Group in 1987, moving to RBS International in 2016.
Steve joined NatWest straight after successfully completing his A-levels. He has over 30 years' industry experience, having worked in a number of businesses and leadership roles including Retail, Wealth, Business and Commercial Banking.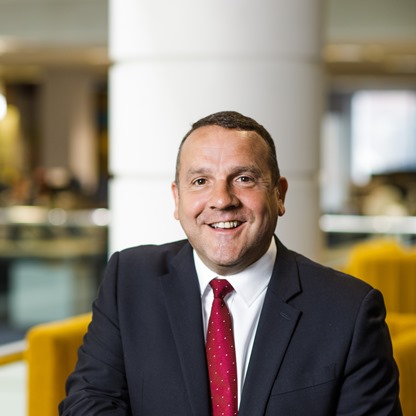 Managing Director, Private Banking
Steve Camm
Steve joined NatWest Group in 1981. He is a career banker with broad range of experience across branch and regulated sales with a number of spells both onshore and offshore.
He has over 35 years' industry experience joining RBS International in 2002.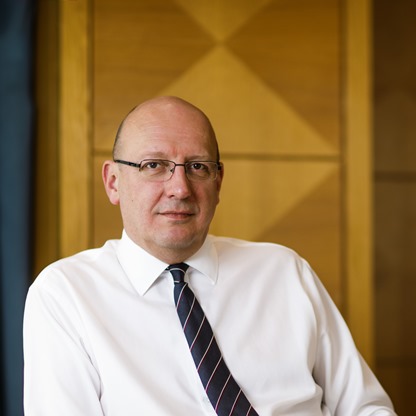 Fiona has more than 25 years' experience in the finance industry in a variety of customer facing and people leadership roles, joining NatWest Group In 1990.

In 2007, Fiona moved from serving our customers on the frontline into Human Resources and, since then, has held roles including HR Change Manager and HR Partner. Fiona joined RBS International in November 2018.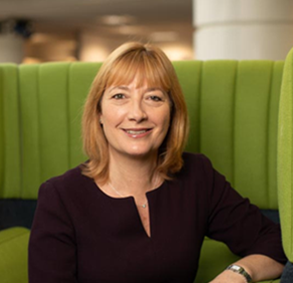 Head of Services & Transformation
Kim Shields
Kim joined NatWest Group in 1994. She has held multiple roles across NatWest Group, mainly in the Services functions. In 1997 she joined RBS International for the first time and worked predominantly in Technology.
Since returning to the UK Kim has worked in a number of product areas and supported the sale of Worldpay. Prior to returning to Jersey she has spent the last few years supporting the closure of RBS network and the broader Transaction Services business.
Kim has over 20 years' industry experience.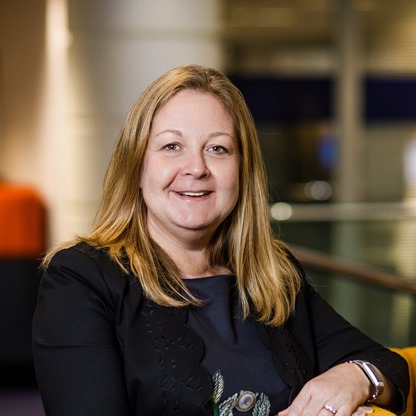 Head of Legal
Stephanie Duke
Stephanie joined RBS International in 2012.
She is an English solicitor and qualified in London in 1995 as a Commercial Litigator. She moved to a law firm in Jersey in 2004 before joining the RBS International team.
In 2017 Stephanie moved from her role as Senior Legal Counsel, into a one year secondment in the Personal & Business Banking division, where she ran the business management team.
In 2018 Stephanie was appointed as Head of Legal & Corporate Governance and joined the Executive Committee.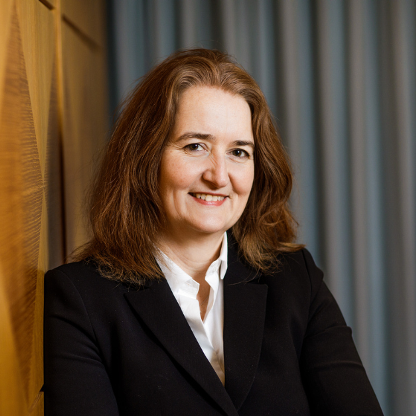 Managing Director, Customer Experience
Richard Bolingbroke
Richard joined NatWest Group in 2004 before moving to RBS International in 2013. He initially spent two years in Gibraltar before moving to Jersey.
He holds a first class honours degree in Business and is an Associate of the Chartered Institute of Securities & Investment (CISI). During his 15 year career in the finance sector Richard has undertaken a number of roles across Strategy, Markets, Real Estate Finance, Mortgages and Change Management.
In his previous role, as Head of Sales and Service, Richard headed up a team of 50 multi-disciplined colleagues, to provide Marketing, Product Management, Customer Experience, Digital and Executive Complaint support across the RBS International business. He joined the Executive Committee in May 2018 to lead a new team which incorporates the Sales and Service and Business Control teams into one function, dedicated to improving Customer Experience across the bank.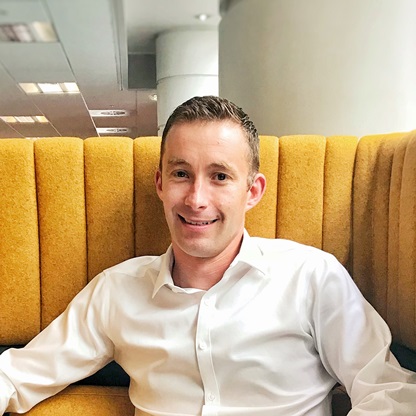 Managing Director, Institutional Banking
Stuart Foster
Stuart Foster was appointed as Managing Director of Institutional Banking in April 2019.

Stuart joined NatWest Group in 2000 and has worked in a variety of roles across the Group, including Structured Finance in Global Banking and Markets and Coverage in the Large Corporate business within CPB, leading the Services and TMT team. More recently, Stuart was Managing Director in Large Corporate & Institutions with responsibility for several sectors including Financial Institutions, Professional Services and Education.

Stuart is an Associate of the Chartered Institute of Bankers (ACIB) and holds a Non Executive Director role for Big Society Capital where he also acts as the UK Bank Shareholder representative and is a member of the Board and Risk and Audit committee.